2 tags
Kali, how do you use color??
So, in the past I've promised a writeup about my color process…which I still plan on posting when I get some more free time! Since I don't have any teaching lined up yet, maybe I'll post some instructables on here instead! But, since I've gotten some more color questions recently, I'll just try to give some quick advice. The 2 most helpful color-things for me...
1 tag
2 tags
1 tag
Anonymous asked: Hi Kali! I have a technical question that I thought an awesome illustrator with your expertise could answer. I am an illustrator as well and I usually work in RGB mode in Photoshop. I recently got a job that requires the drawing to be in CMYK. When I completed the drawing in CMYK mode and posted it online... the colors came out saturated and scary looking. When people ask you to create an image...
1 tag
3 tags
TAXES FOR FREELANCERS, 101
In the past, I've gotten some questions about the business of illustration & about how taxes work. Filing taxes is a bummer, but it sucks even more when you have no idea what you're doing. After progressing from Completely Clueless to Somewhat Experienced* during the past 5 years of doing my own taxes, I thought i'd write (& illustrate!) a generalized rundown....
2 tags
1 tag
Anonymous asked: I'm really pumped about that Women Warriors zine!! I'm sorry if this has been asked already and I missed it but do you know if it will be available for order online later for those of us that can't make the con?
nadlythenarwhal asked: I am a really big fan of your work! I love your clean lines and crisp colors, and I think you stage pictures really well. I suppose I have two questions. First, how/when did you develop your artistic style? I'm desperate to get mine. Second of all, if you use computer graphic programs/tablets, which one do you recommend for a beginner?
1 tag
2 tags
1 tag
Watch
HI-FIVES I'm on Vine now, you guys!
1 tag
justinrripley asked: I love the pieces you've made using informal subdivision! I was just wondering, is there any incorrect way to divide your page? I have only read the basic theory about the golden spiral and compositional errors (your tutorial on composition has been especially useful!), but I was just wondering if you use some type of planned method to create the subdivisions? Or is it totally random? Thanks!
1 tag
2 tags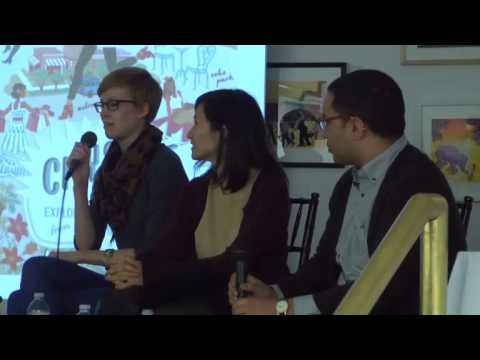 3 tags
katbot asked: I really love your artwork not only because it's beautiful but also because it's so diverse! As a person of colour, it's really brilliant to see so many shades of people in your illustrations!
1 tag
onemultiplecode asked: Your composition post looks pretty rad. I just wanted to message you and let you know that some of the links on it are not working though. :(
2 tags
5 tags
1 tag
2 tags
2 tags
2 tags
1 tag
meniodd asked: Hi, I got to say that i love your work! :-) and your process shots as well. I've seen that you always star with a black & white sketch, it seems it is very important to you. What's its function and what do you do with that sketch once you got it?
fuckyeahillustrativeart asked: Did your Samurai t-shirts ever go up for sale? Did I miss the opportunity?
2 tags
2 tags
2 tags
savanhi asked: Will the Samurai t-shirt be available elsewhere soon?
1 tag